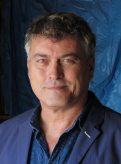 Pedro Gómez-Romero
CSIC Research Professor, Catalan Institute of Nanoscience and Nanotechnology, Spain
Biography
Pedro Gomez-Romero has completed his PhD in Chemistry from Georgetown University, USA in 1987 with Distinction. He served as a Full Professor and Group Leader
of NEO-Energy lab at ICN2 (CSIC), Sabbatical at the National Renewable Energy Laboratory, USA (1998-99), Vice-director of MATGAS Technological Center (2010-2013)
and leads projects on nanomaterials for energy storage and conversion (lithium batteries, supercapacitors, graphene, flow batteries, solar-thermal energy, nanofluids). He is author of more than 200 publications, scientific editor of the books "Functional Hybrid Materials" P Gómez-Romero, C Sanchez (Eds.) (Wiley-VCH 2004) and "Metal Oxides in Supercapacitors" (Elsevier, 2017, D Dubal, P Gomez-Romero) (in preparation) and author of three award-winning popular science books. He is member of MRS, ECS, ISE, EuroScience and the Royal Society of Chemistry and Fellow of the Royal Society since 2014.
Abstract
Abstract : Nanofluids for energy applications